Also in the store...
ThinkFun Games -
engage and educate kids. They challenge the players and nurture thinking skills important to growth and development. ThinkFun games aren't designed to simply occupy a child's time; they channel the natural joy and energy of play into focused way of building essential thinking skills.
Frozen Spot It! -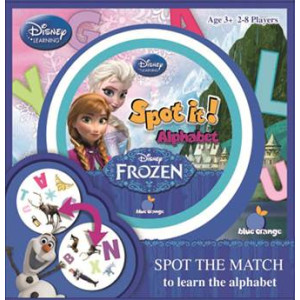 Learn the alphabet with the Spot It! card game you know and love - now with a Frozen twist! Match concepts and letters in this fun and educational take on learning your letters.
Melissa & Doug -
Trains, cars, trucks, and more - if you love vehicles, Melissa & Doug has you covered, with dump trucks, zoo transports, race-car trailers and much, much more!
Stung by Bethany Wiggins (MacMillan)
Fans of The Hunger Games will love this dystopian remake of Sleeping Beauty. In Stung by Bethany Wiggins, Fiona wakes up from a coma to find a strange tattoo on her wrist. The world has changed while she was unconscious, her house is deserted and her family has disappeared, except for her brother, who immediately tries to kill her. She flees and discovers that since the honey bees' extinction, the privileged few fight the marked humans who've turned into savage beasts. Hunted by both sides, Fiona fights to make sense of what has happened to her before she turns, too. This page turning-thriller will keep readers guessing until the very end. Ages 14 and up
The Art Forger by Barbara Shapiro (Workman)
The Art Forger is a must read for any art lover. Claire is a talented artist who has been unjustly blackballed by the art establishment. Then a successful gallery owner asks her to forge a Degas stolen from the Gardner museum in exchange for a one-woman show at his pretigious gallery. Almost immediately she suspects the stolen painting might be a forgery, but the more she works on her own forgery, the more entangled she becomes. This novel has so many rewarding twists and turns it is impossible to put down. Ages adult
The Dark by Lemony Snickett and Illustrated by Jon Klassen (Hachette)
Caldecott-winner Jon Klassen and The Series of Unfortunate Events author Lemony Snicket (talk about a dynamic duo) tackle one of childhood's toughest topics: the dark.

Readers are led into a dark basement in this charming and beautifully illustrated tale about conquering your fear of the dark. Just slightly spooky, but ultimately sweet, this picture book will have you reading and rereading long after lights out. Ages 3-6
The Gardner Heist: the True Story of the World's Largest Unsolved Art Theft by Ulrich Boser (Harper)
Written with the pacing of a novel, but including meticulous research, Boser recounts the crime, various leads pursued by art detectives, and eventually his own obsessive search for the lost masterpieces. This book showed why the largest unsolved art heist in history has captivated so many, and may light the fire of obsession in a new generation of readers and art lovers. Ages adult
The Brides of Rollrock Island by Margo Lanaganeraphina (Knopf Books for Young Readers)
Lanagan walks the fine line between fascination and repulsion with breathtaking precision. There's an incredible amount of control here—what could be a straight up creepy story becomes an emotionally compelling narrative that refuses to play with black and white judgments of right and wrong. Multiple storytelling perspectives often serve to muddy a plot, and we won't say that's untrue here, but it also gives a multidimensional perspective on the strange, magical selkie brides. Ages 14 and up

The Aviator's Wife by Melanie Benjamin (Delacorte)
Most of us know some aspect of the Lindberghs' story, whether it is the aviation hero we learned about in elementary school, or the tragic kidnapping of their baby, or the darker, more unsavory subjects that were revealed in later decades. The Aviator's Wife shows us yet another side of that story. Melanie Benjamin has crafted a thoughtful novel from the perspective of Anne Lindbergh that chronicles her rise to fame, her personal aviation success, and her tumultuous marriage. Ages adult
My Song by Harry Belafonte with Michael Shnayerson (Vintage Books)
From Publishers Weekly -- With lyrical grace, [Belafonte] chronicles his life from early childhood—where a violent father made life difficult for him, his brother, and his mother—and his first singing engagements, to the difficulties in his own marriages, the grueling life on the show circuit, and his later involvement in the civil rights movement and other social causes. Ages Adult
Before I Go To Sleep by S. J. Watson (Harper Perennial)
From Publishers Weekly -- Memories—real, false, and a bit of both—are at the heart of British author Watson's haunting, twisted debut. Christine Lucas awakens each morning in London with no idea who she is or why she's in bed with a strange man, until he tells her that his name is Ben and they've been married for 22 years. Slowly, Christine learns that she has amnesia and is unable to remember her past or retain new memories: every night when she falls asleep, the slate is wiped clean. Dr. Nash, her therapist, has encouraged her to write in a journal that she keeps secret from Ben. Christine realizes how truly tangled—and dangerous—her life is after she sees the words "don't trust Ben" written in her journal, whose contents reveal that the only person she can trust is herself. Watson handles what could have turned into a cheap narrative gimmick brilliantly, building to a chillingly unexpected climax. Ages: Adult.
---
More Recommended
2 AND UNDER


NASCAR 1 2 3 by Christopher Jordan (Fenn-Tundra) - Gentlemen start your counting! Perfect for your little NASCAR fan or your big NASCAR fan who has a little one. Count the tires, lug nuts, Goodyear blimps, even the NASCAR drivers. Each page of items includes an information tagline at the bottom: "Jet's fly over NASCAR tracks during pre-race activities."


Snow White by Trixie Belle and Melissa Caruso-Scott, illustrated by Oliver Lake (Henry Holt) - Think this tale of jealousy, deception, murder and small woodland creatures couldn't possibly be turned into a board book? Think again. It's all here: the magic mirror, the Huntsman, the Dwarfs and the poisoned apple. You've got to see it to believe it!

AGES 3-6


More by I.C. Springman/Illustrated by Brian Lies (Houghton Mifflin Books for Children) For the adult who appreciates art or the 2-year-old who doesn't need too many words at storytime, this book is great. The art is what caught my eye. Right from the cover, Brian Lies (of Bats at the Beach) draws with great attention to detail, from the magpie's feathers to the numbers around its leg. The story is one any child (or adult) can identify with; a story of collecting too much stuff. The magpie finds more and more stuff to take home until it is TOO MUCH! Some kind mice help him get rid of what he doesn't need and keep just what he needs (just enough).

BEGINNER READER


I Can't Take a Bath: by Irene Smalls, Illustrated by Aaron Boyd (Scholastic) - A young boy does says everything he can think of to get out of having to take a bath: he has a headache; there's a monster in the tub; he'll float down the drain; he needs his favorite towel. Told in rhyming text parents of early readers will get a kick out of this and early readers just might get some new ideas to get out of their next bath.


AGES 8 - 10


The Great Unexpected by Sharon Creech (HarperCollins) - Two plucky orphan girls in the tiny town of Blackbird Tree follow a trail of clues to solve the mystery of their new friend, the strange "Finn boy." Their search takes them across the wide Atlantic to Ireland, where a jaw-dropping surprise awaits the pair. Newbery medal winner Creech is masterful with the art of interconnected plot lines, and her talent is brilliantly on display here.This has got to be one of my top middle grade picks! Highly, highly recommended!



AGES 14 AND UP


Code Name, Verity by Elizabeth Wein (Hyperion) - Looking for an exciting read about spies and pilots? Look no further than Code Name Verity by Elizabeth Wein. Verity is a spy, caught in France by the Germans and buying time by writing down her story. Her friend Maddie is a pilot, shot down and stranded in France with no way home. Neither one knows if the other has survived. The historical setting, in 1940′s England, Scotland and France is precise and vivid, helping us understand the tensions and sacrifices of living in wartime. The story is an adventure, taking both main characters far outside their experience and comfort zones. Wein is a master of foreshadowing and irony and when most readers finish the book, they go straight back to the beginning, to try and track down the clues hidden in the text. Finally, and most importantly, it is a story of friendship. Friendship of the best kind–two people who are different in background, interests, and personality but who just fit so perfectly that they will protect each other until they die. For anyone interested in the lost heroes of World War II, spies and pilots, or just tales of unlikely and lifelong friendships, this is the book to read.
GROWN-UP


Lady Almina and the Real Dowton Abbey: The Lost Legacy of Highclere Castle by The Countess of Carnarvon (Broadway Paperbacks) - from the book jacket: Drawing on a rich store of materials from the archives of Highclere Castle, including diaries, letters, and photographs, the current Lady Carnarvon has written a transporting story of this fabled home on the brink of war. Much like her Masterpiece Classic counterpart, Lady Almina was the daughter of a wealthy industrialist, Alfred de Rothschild, who married his daughter off at a young age, her dowry serving as the crucial link in the effort to preserve the Earl of Carnarvon's ancestral home. Throwing open the doors of Highclere Castle to tend to the wounded of World War I, Lady Almina distinguished herself as a brave and remarkable woman.

This rich tale contrasts the splendor of Edwardian life in a great house against the backdrop of the First World War and offers an inspiring and revealing picture of the woman at the center of the history of Highclere Castle.
---
MORE LISTS - STAFF FAVORITES OLD AND NEW
Ellen's Favorites
"Hooray for Fish!," Lucy Cousins (6 mos. - 2-1/2)
"Now We Are Six," A.A. Milne (6-10)

Patrick's Favorites
"Cinder Edna," Ellen Jackson (4-8)
"Library Mouse," Daniel Kirk (4-8)

Megan's Favorites
"Corduroy," Don Freeman (4-7)
"The Twelve Dancing Princesses," Rachel Isadora (4-8)