UPCOMING EVENTS!
Friday, December 2nd: Make a difference in the world! We are hosting a Llama Llama Red Pajama Story Time and asking attendees to bring a set of new pajamas to donate. These pajamas will go to children in need, and Penguin Publishing will match your pajama donation with a children's book! This will be a fun story time that will put a smile on your face, while helping to change lives for the better! You can learn more about the Pajama Program here! Our story time will include Llama Llama stickers, coloring sheets, and activity sheets. 10:30 am.
******
Saturday, December 3rd: We can't wait to welcome author, illustrator, designer, blogger, and educator Andrea Pippins for a return visit to Hooray for Books! Andrea -- the artist behind the coloring book I Love My Hair -- will present her newest book, Becoming Me: A Work in Progress: Color, Journal, & Brainstorm Your Way to a Creative Life. This book would be a great gift and keepsake for ages 12 and up. Come to this exciting author event -- you're sure to be inspired by Andrea! 5 pm.
*******
Wednesday, December 7th: We have exciting news! We won a Bedtime for Batman Pajama Party from Capstone Publishing!!! Join us for this very special Bedtime for Batman Pajama Party with author Michael Dahl! When a dark night comes to the big city, one little superhero prepares for a great adventure -- bedtime! This Batman tale will have fans young and old delighting in their bedtime routine. At our Bedtime for Batman party, we will have a story time with the author, milk and cookies, and a superhero-themed craft. Put on your PJs and get ready for some fun! The party starts at 5 pm!
NEW: The first 16 prepaid orders of Bedtime for Batman ($15.99 plus tax) include complimentary superhero pajamas for your child! Sizing and color options limited. For best selection purchase early.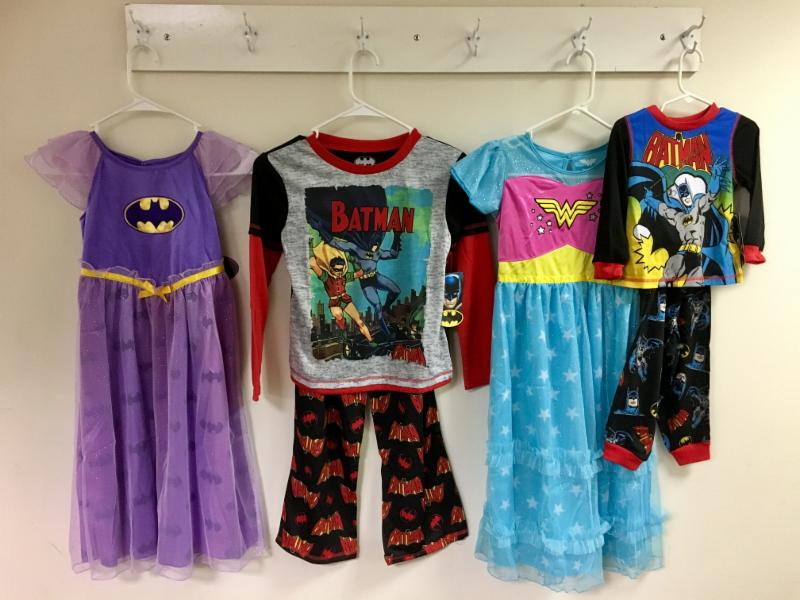 ******
Wednesday, December 14th: Has 2016 made you feel that your heart is two sizes too small? Would you like it to grow THREE sizes? Then join us at our How the Grinch Stole Christmas Story Time! In addition to reading How the Grinch Stole Christmas(and perhaps a few other holiday classics), we will have free Grinch stickers and buttons, Grinch coloring sheets, games, and postcards that you can mail to the Grinch! When you mail in your postcards, Penguin Random House will donate a book to the Alexandria community. 5pm.
******
Sunday, December 25th: We will be closed on Christmas Day. We hope you and your family have a great holiday!
******
Saturday, December 31st: Join us for First Night Alexandria activities! You can purchase your First Night Alexandria tickets here. Then, come play Houdini, Circuit Maze, Rush Hour Shift, Balance Beans, Zingo, and Math Dice in our ThinkFun "Game Room." Be sure to meet Curious George (costume character) in our store at 2 pm, 3 pm, and 4 pm. And join us for two special story times (in addition to our regular 10:30 am story time). Our special story times will be at 6 pm and 7 pm. Celebrate the end of 2016 with us! 2 pm - 8 pm.
******
SAVE THE DATE
Wednesday, January 11th: We are excited to welcome author Nick Bruel as he presents the newest chapter book in the Bad Kitty series: Bad Kitty Takes the Test! Bad Kitty has her cat licensed revoked, and to renew it she must sit through a gruelingly boring class followed by a standardized test. After watching a specious video filled with oddball cat facts (and created by the test-makers, TestPro) she gets to the test itself -- and it's administered by a chicken. This hilarious new addition to the Bad Kitty series is sure to be a favorite with children and adults! 6 pm.
**************
Book Clubs for Adults at Hooray for Books!
Remember, you receive 20% off these titles when purchasing them for one of our book clubs!
Adults Book Club Pick
Wednesday, December 7th at 7 pm
Under the Harrow by Flynn Berry
In this psychological mystery thriller, Nora faces devestation when she travels from London to the remote country town of Marlow to visit her sister -- and finds her dead, stabbed multiple times. Nora vows to stay in the village until her sister's killer is found. Motivated by guilt and grief, and unable to trust the police due to an unresolved past assault, Nora becomes unrecognizable as her obsession with the case spirals out of control.
Science Fiction Book Club Pick
Thursday, December 29th at 6:30 pm
Robogenesis by Daniel H. Wilson
It's been three years since the robot uprising. It's been three long years since humankind fought a guerilla war that saved humanity from the brink of annihilation. But a new enemy has emerged, and humankind must fight once again. This time, however, their only hope may be their former robot nemesis -- Archo R-14.
Adults Read YA Book Club Pick
Wednesday, December 28th at 6:30 pm
American Born Chinese by Gene Luen Yang
Three apparently unrelated tales come together with an unexpected twist in this modern fable. In one story, Jin-Wang is the only Chinese American student at his school. He is picked on by jocks and bullies, and to make matters worse, he falls hopelessly in love with an all-American girl. Another strand of this novel tells the tale of the Monkey King, one of the oldest and greatest Chinese fables. A third story involves Danny and his cousin, Chin-Kee. When Chin-Kee makes his yearly visit, he ruins Danny's life and Danny has to switch schools to escape the shame. These three tales weave together in this astonishing novel from Gene Luen Yang.
**********